Speaker Lineup
Greg Andrews; Brother Guy Consolmagno SJ; Dan Davis; David Eicher; Fred Espenak; Pranvera Hyseni; David H Levy; Ashini Modi; Debbie Moran; Bob Morrow; Dr. James Dire; Robert Reeves; and Vivian White.
---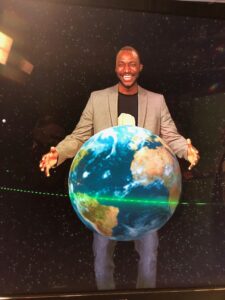 Greg Andrews' passion for astronomy and physics is recognized by all who encounter him, and he is quick to tell you his passion started young when, as a child, he listened to Darth Vader and "joined the Dark Side." His curiosity was well known in his family and he loved to learn how everything worked. That curiosity continues to this day.
Greg has worked at Sci-Port Discovery Center since February 2005. He graduated from Louisiana State University – Shreveport (LSUS) and received a B.S. in Physics. He was elevated to the position of the Astronomy Program Leader in January 2006 and Planetarium Manager in 2010. His responsibilities includes, amongst others, the daily operation of the Sawyer Space Dome Planetarium, creation and development of Planetarium programs, management and training of the Planetarium staff, and the maintenance and operation of the Averett Solar Observatory and associated telescopes.
Greg regularly communicates space science and astronomy related information to schools groups and general visitors through a combination of planetarium presentations activities, demonstrations, and presentations carried out in other parts of the Center. Programs he creates and delivers include, in part, the Summer Space Series, 4 th Friday Astronomy, Sun Cookie Sundays, the Astronomy Short Course, and Star Parties. Greg has developed a partnership with the Shreveport-Bossier Astronomical Society, which he is a member of, to enhance delivery of astronomy programming. Additionally, Greg participates in a multitude of NASA and astronomy-related webinars and seminars (and he watches YouTube) to discover ways to maintain the relevancy of astronomy to the audience.
---
Brother Guy Consolmagno SJ, co-author with Dan Davis of Turn Left at Orion, is the director of the Vatican Observatory outside Rome. A native of Detroit, Michigan, he received SB and SM degrees from MIT, and his PhD in Planetary Sciences from the University of Arizona. He was a research fellow at Harvard and MIT and taught university physics before entering the Jesuits in 1989. At the Vatican Observatory since 1993, he was appointed its director by Pope Francis in 2015.
Br. Guy's research explores connections between meteorites, asteroids, and the evolution of small solar system bodies. Along with Turn Left at Orion he is the author of nearly 300 scientific publications and a number of other popular books. In 2014 he received the Carl Sagan Medal from the American Astronomical Society Division for Planetary Sciences for excellence in public communication in planetary sciences; asteroid 4597 Consolmagno is named in his honor.
---
Dan Davis — Having grown up in Yonkers, NY (right next to the Bronx), Dan Davis did his undergraduate work in Geological and Geophysical Sciences at Princeton, followed by a Ph.D. in Earth and Space Sciences at MIT in 1983. After three years as a postdoctoral fellow at Columbia University he joined the faculty at Stony Brook University in 1986. He remained there until his retirement last year, when he and his wife moved back to Massachusetts. Much of his research in tectonics and geophysics has focused on the mechanics of plate collisions and the formation of mountain belts. Other areas of research include the geological aspects of nuclear test ban monitoring and the application of geophysical techniques to the study of glacial and post-glacial geology. An avid lifelong stargazer, his public outreach spans astronomy as well as geology and includes co-authorship (with Guy Consolmagno) of the book Turn Left at Orion (now in its 5th edition), published by Cambridge University Press.
---
David Eicher is one of the most widely recognized astronomy enthusiasts in the world. He has been with Astronomy magazine for 40 years, beginning as an assistant editor and working through associate, senior. and managing positions. He has been the magazine's chief editor since 2002. He is also President of the Board of the Starmus Festival, an international celebration of science and music.
Dave has spoken widely to amateur astronomy groups, logged many hundreds of hours at the eyepiece, and written 15 books on astronomy. Among them are GALAXIES: Inside the Universe's Star Cities (Penguin Random House); MISSION MOON 3-D (with Brian May, London Stereoscopic Co. and MIT Press), and THE NEW COSMOS: Answering Astronomy's Big Questions (Cambridge University Press).
Dave has also written 9 books on American history, including THE LONGEST NIGHT: A Military History of the Civil War (Simon and Schuster), DIXIE BETRAYED: How the South Really Lost the Civil War (Little, Brown), and CIVIL WAR HIGH COMMANDS (with John H. Eicher, Stanford University Press).
He has spoken to many science and business groups around the world, including locations with his collaborator Brian May, and at Harvard University, the Starmus Festival, and the American Museum of Natural History in New York.
A native of Oxford, Ohio, Dave grew up around Miami University, where his father was a professor of organic chemistry. Rather than turning to chemistry, however, Dave was attracted to the stars as a 14-year-old when he spotted Saturn through a small telescope at a star party. Comet West really turned him on to observing, and Dave soon went far beyond to explore clusters, nebulae, and galaxies from his dark backyard – he soon was hooked on viewing deep-sky objects.
In 1977, Dave founded and began editing the nebulae, and galaxies from his dark backyard – he soon was hooked on viewing deep-sky objects.
In 1977, Dave founded and began editing the magazine Deep Sky Monthly. Five years later, the publication moved with Dave to Milwaukee, turned quarterly, and was renamed Deep Sky, which was issued regularly until 1992. In addition to his book writing, Dave has written or edited hundreds of articles on all facets of astronomy, science and hobby. In 1990, the International Astronomical Union named a minor planet, 3617 Eicher, for Dave in recognition of his service to astronomy.
Dave was president of the Astronomy Foundation, the telescope industry and astronomy outreach group, from 2011-2017.
---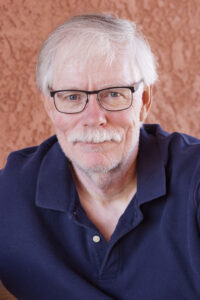 Fred Espenak is a retired astrophysicist from NASA's Goddard Space Flight Center where he worked with infrared spectrometers to probe the atmospheres of the planets. He is also known as "Mr. Eclipse" because of his work on predicting and observing solar eclipses. He has written over a two dozen books on eclipses including his most recent "Eclipse Bulletin: Total Solar Eclipse of 2024 April 08." Espenak also runs 3 web sites on eclipse predictions (www.EclipseWise.com), eclipse photography (www.MrEclipse.com), and astrophotography (www.AstroPixels.com). Over the past 50 years he has witnessed 29 total eclipses of the Sun. In 2003, the International Astronomical Union honored Espenak by naming asteroid 14120 after him. His photograph of the 2006 total eclipse was featured on a U.S. Postal Service's Forever stamp to commemorate he 2017 total solar eclipse. Espenak now lives in Portal, Arizona where he operates Bifrost Astronomical Observatory.
---
Pranvera Hyseni is a graduate student from the Republic of Kosovo, pursuing a PhD in Earth and Planetary Science at University of California, Santa Cruz. She is the founder of Astronomy Outreach of Kosovo (AOK) – the largest astronomy outreach program in Eastern Europe, and runs the Kosovo Chapter of the Charlie Bates SolarAstronomy Project.
Hyseni started showing an interest in astronomy at the early age of three, while Kosovo was still entangled in the Serbian conflict of the late 90's. She grew up on a farm with access to clear night skies, a sight that early-on drew her to astronomy.
She single-handedly brought science to her community by developing a very powerful non-profit astronomy outreach organization, "Astronomy Outreach of Kosovo", and established a large, world-wide network of both professional and amateur astronomers who support her initiative with equipment and other resources. She uses this support to provide outreach activities throughout the country of Kosovo. AOK reaches over 25,000 people every year, and thanks to this work Hyseni was chosen as one of the five mostinfluential women in Kosovo.
Her public education activities were further expanded when she worked on various projects with the Ministry of Education, Science and Technology of Kosovo, as well as other government institutions. She has delivered numerous astronomy talks at universities and astronomy gatherings all over the world. In 2022, she established the first International Astronomy and Planetary Sciences in Kosovo, featuring world-class astronomers and scientists.
Ms. Hyseni has been honored by the International Astronomical Union and the Minor Planet Center with the naming of an asteroid, 45687 Pranverahyseni. In 2018, the Municipal Assembly of the city of Vushtrri in Kosovo named her a distinguished student, and she was also honored with the "24Under24" award by the Mars Generation as a young leader in STEM education. She received the "Master Outreach" award in 2019 from the Astronomical League, the "Michael Reynolds Astronomy Award" by the Association of Lunar & Planetary Observers. Recently, Ms. Hyseni accomplished her first provisional discovery of a Main Belt asteroid: 2020 SS13, found in data provided by Pan-STARRS while working with International Asteroid Search Collaboration.
Besides working towards attaining her PhD, her current effort is to develop the first observatory and planetarium in Kosovo. She believes that in order to ensure an educated workforce up to the task, is to step up efforts in science and technology by building the first astronomy dedicated center in Kosovo that will be accessible to the public. The building is currently under construction and anticipates grand opening in September 2023, which will host a Celestron C14 Edge HD – making it the largest telescope in the entire Republic of Kosovo.
---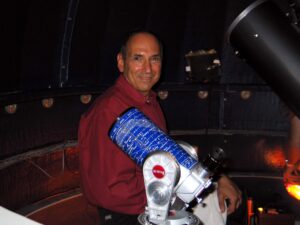 David H Levy is arguably one of the most enthusiastic and famous amateur astronomers of our time. Although he has never taken a class in astronomy, he has written over three dozen books, has written for three astronomy magazines and has appeared on television programs featured on the Discovery and the Science Channels. Among David's accomplishments are 23 comet discoveries, the most famous being Shoemaker-Levy 9 that collided with Jupiter in 1994, a few hundred shared asteroid discoveries, an Emmy for the documentary Three Minutes to Impact, five honorary doctorates in Science and a PhD from the Hebrew University of Jerusalem (2010) which combines astronomy and English Literature. Currently, he is the editor of the web magazine Sky's Up!, has a monthly column, Skyward, in our local Vail Voice paper. David continues to hunt for comets and asteroids, and lectures worldwide.
---
Connor Matherne, a renowned planetary scientist and astrophotographer who has made significant contributions to the field of space exploration and astronomy. With a passion for unraveling the mysteries of the cosmos, Connor Matherne has dedicated their career to studying celestial bodies and capturing awe-inspiring images of the universe.
One of Connor Matherne's notable achievements includes collaborating with NASA on the Mars Rover mission, specifically focusing on determining the optimal landing site for the Perseverance rover. Their expertise in planetary science played a crucial role in identifying the ideal location for this groundbreaking mission, which has since provided invaluable data about the Red Planet.
In addition to their work on Mars, Connor Matherne has made significant contributions to the field of astronomy. They joined forces with astronomers from around the world to capture a record-breaking image of a black hole eruption in Centaurus A. This remarkable achievement not only expanded our understanding of these cosmic phenomena but also showcased Connor Matherne's dedication to pushing the boundaries of astronomical research.
Connor Matherne is also actively involved in public engagement and outreach through their collaboration with Deep Sky West, a private observatory specializing in astrophotography. By working closely with this organization, they have helped bring the wonders of the universe closer to the public, sparking interest and awe in people of all ages.
The recognition of Connor Matherne's exceptional talent and contributions to the field is evident through their shortlisting and runner-up position in the prestigious Astronomy Photographer of the Year competition. This achievement serves as a testament to their skill in capturing breathtaking astronomical moments and their ability to convey the beauty of the cosmos through their lens.
The impact of Connor Matherne's work has reached a wide audience, with numerous publications featuring their groundbreaking research and stunning astrophotography. Their accomplishments have been covered by reputable media outlets such as NPR, the New York Post, CBS, and many others, solidifying Connor Matherne's position as a leading figure in the field of planetary science and astrophotography.
Through their unwavering passion, dedication, and remarkable contributions, Connor Matherne continues to inspire both aspiring scientists and astronomy enthusiasts alike, leaving an indelible mark on our understanding of the universe and its wonders.
---
Ashini Modi is a freshman at Harvard University concentrating in Astrophysics and Evolutionary Biology. She first became interested in astronomy in elementary school through attending Shreveport-Bossier Astronomical Society talks and star parties. Since then she has become a passionate researcher and amateur astronomer who has published research on binary black holes and exoplanet amospheres and presented at national and international science competitions and conferences. Having also conducted space biology research, Ashini is interested in pursuing the intersection between the space and life sciences as a career. As a firm believer that education is a right and not a privilege, she is dedicated to bringing books and STEM mentorship to unhoused and underrepresented students in her community through her organizations Reading Rainforests (501c3) and Students to Scientists.
---
Debbie Moran –has had a lifelong interest in astronomy since her childhood in Midland, TX where all the scenery is in the sky. She has been a longtime member of the Houston Astronomical Society and has served in a number of capacities there, most recently finishing nine years as Novice Chair in charge of programs for new members. She participates in outreach programs, gives talks about astronomy and light pollution in the community and is a volunteer telescope operator at the George Observatory in Brazos Bend State Park. She has also served as Treasurer of the Astronomical League in the past.

She is the 2017 recipient of the International Dark-Sky Association's Hoag-Robinson Award for education of government officials about outdoor lighting issues. She has also lobbied for a lighting ordinance or education program to reduce security light glare and created the web site www.softlighthouston.com to educate citizens on lighting issues. The site prompted the Houston Police Department to recommend soft shielded lighting. Over time she has accumulated research which has
helped other city advocates, most recently in Kansas City, MO which changed its street light plan. In January 2023, the city of Houston passed its first lighting code for future commercial and permitted lighting which will require shielding, warmer color, and measured limits on light trespass. She believes that lack of education among law enforcement is a root cause of light pollution and has been compiling information and evidence most compelling to police forces which she will share at her talk.
---
Bob Morrow — Ever since he was given a Tasco refractor (234 power!) in the early 1960's, Bob Morrow has been interested in astronomy. He was a familiar sight at the Griffith Observatory, north of Los Angeles, where he spent countless hours at the museum and in the planetarium. During his undergraduate work at the U. S. Air Force Academy, his ambitious project in astronomy class was to photograph all the Messier objects through the school's 10-inch Celestron SCT. He gave up after hours of collecting photons from the ring and crab nebulae onto GAF 500 film. They were barely visible. Bob finally acquired his own C11 and discovered that the views of the skies in rural Indiana were fantastic…when the telescope was collimated. Unfortunately, that wasn't often, and re-collimating was a real challenge using the factory screws. Eventually, Bob realized that the factory screws could be replaced with knobs, and Bob's Knobs was born. Now collimation could be done while looking through the eyepiece and without threatening the corrector plate with a pointed tool. After sending another set to an internet forum member, requests for knobs began arriving in droves. Bob got busy designing knobs for other telescope makes and models, creating a web site www.bobsknobs.com, and learning about packaging and shipping. Bob's Knobs are now available for collimating over 100 different telescope models, and for various mounts so they can be assembled without tools.
---
Dr. James Dire rears from St. Joseph, Missouri. He attended the University of Missouri-Kansas City majoring in chemistry, math, and physics. While there he was active with the Astronomical Society of Kansas City and served as their president his last year of college. After graduating, he joined the Navy and became a nuclear engineer. While on active duty he earned a master's degree in physics from the University of Central Florida and a PhD in planetary sciences from The Johns Hopkins University. Dire's master's thesis was on energy losses when radio waves reflect off of wire-grid antennas (radio telescopes). His PhD was on the seasonal organic chemistry in Titan's atmosphere.

Leaving the Navy, Dire then became an active-duty professor at the Coast Guard Academy. Upon retiring from active duty in 2005, Dr. Dire went into higher education administration. He served as a dean, academic vice president, and college president in North Carolina, Hawaii, and Illinois. Dire is currently an administrator at Fletcher Technical Community College in Schriever, LA.

Throughout his career Dire stayed active with local astronomy clubs including the Central Florida Astronomical Society (Orlando), the Baltimore Astronomical Society, the Astronomical Society of New Haven, The Thames Amateur Astronomical Society (New London, CT), the Cleveland County (NC) Astronomical Society, the Las Vegas Astronomical Society, the Peoria (IL) Astronomical Society, and the Kauai Educational Association for Science and Astronomy. Dr. Dire has tested myriad telescopes and accessories and authored reviews for Astronomy Technology Today magazine since it was founded. He is a respected national expert on equipment in the hobby. Since 2009, he has authored a Deep Sky column in the League's Reflector magazine. His book Exploring the Universe- A Practical Guide for Hobbyists is currently undergoing publication with Springer Nature and should be out later this year.
---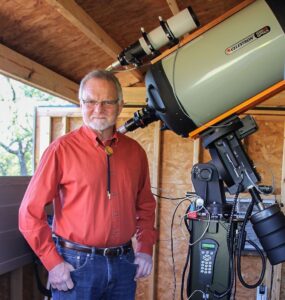 Robert Reeves has been exploring the cosmos in 1958 and took his first lunar photograph in 1959. He began telescopic astronomy with a four-inch Criterion Dynascope, his Christmas present in 1960. In 1975 he acquired a Celestron 8 telescope, which he still uses today. In 1977, Robert acquired a Celestron 8-inch Schmidt camera that he used for a quarter century for deep sky photography. Today, Reeves uses a Celestron 11 Edge HD and a Sky-Watcher 180mm Maksutov for lunar photography from his Perspective Observatory located in central Texas. Robert also uses a Sky-Watcher 20-inch Stargate telescope for visual observing and a Celestron 14 with a HyperStar for deep sky photography.
In 1984 Reeves began publishing articles about astrophotography in Astronomy magazine. Since then, Robert has published over 250 magazine articles and 250 newspaper columns about astronomy. His articles have appeared in Sky and Telescope, Astronomy, Deep Sky, Deep Sky Journal, Amateur Astronomy, and The Astrograph. In 1994 Reeves published his first book, The Superpower Space Race, followed by The Conquest of Space, co-authored with Fritz Bronner. In 2000, Robert published Wide-Field Astrophotography, followedby Introduction to Digital Astrophophotography in 2005 and Introduction to Webcam Astrophotography in 2006.
Although Robert Reeves is an accomplished deep sky astrophotographer, his current passion is re-popularizing the Moon within the amateur astronomy community by explaining the origin of the Moon, the evolution of its face, and introducing its geology to Moon lovers everywhere. Robert has perfected image processing techniques that allow the amateur astronomer, using modest equipment, to exceed the quality of Earth-based professional lunar photographs taken during the Apollo era.
Robert Reeves enjoys speaking about astronomy and spreading his passion for the Moon and photographing the heavens. In addition to appearances and Zoom presentations to interested groups, Reeves has been the keynote speaker at the Winter Star Party, Apollo Rendezvous, and the Advanced Imaging Conference. He has spoken twice to the Okie-Tex Star Party, and the Southwest Astrophoto seminar. Robert has also spoken three times to and AstroImage and spoken four times to ALCON, NEAF, and NEAIC, in addition to many presentations to the Texas Star Party. Robert has also been the Master of Ceremonies at two ALCONs and three times at the Arizona Science and Astronomy Expo. His recent activities include a five-city speaking tour in China where Reeves was the first westerner to address the Chinese astronomy community about the Moon. Reeves also represents the Celestron telescope company at national astronomical conventions.
Asteroid 26591 Robertreeves is named in his honor and asteroid 26592 Maryrenfro bears his wife's name. Robert and Mary Reeves are the only husband and wife team to have sequentially numbered asteroids.
---